PROGRAM IN BAUMHAUS SPACE
Want to meet neighbors and other people who want to make the world a better place in Berlin? Our project space is a platform for meeting, events and workshops for a variety of people and organizations…
Check out our program below to see the schedule of events. And if you think something is missing, maybe you could create that event in Baumhaus yourself. Get inspired and involved in Baumhaus project space!
Gerichtstr. 23, front building, ground floor – the entire space is ground floor, we have a ramp to get in, and a barrier free bathroom. Please let us know if you have other special needs, we'll try to provide support. Please note: The entire space is designated as an "Open Greeting Zone", which means that it is a place where anyone can feel comfortable walking up to anyone else and introduce themselves. Our events are often bilingual in English & German. Please let us know if you don't understand. Most of the time we can organize translation on the spot.
If not indicated otherwise: 5-12€ (pay-as-you-feel) for the space

You can find our events also at Facebook & sometimes Twitter
May
28
Thu
Community Night, Buffet & Groove Meditation
May 28 @ 17:00 – 23:00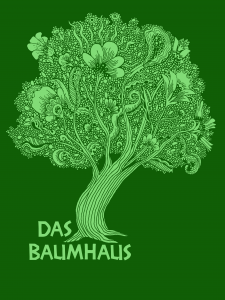 Baumhaus Community Networking Night
Baumhaus weekly Community Networking Night is about bringing together people from all walks of life who share a common desire; to act on their impulse to do what they can to make the world a better place.
Its about enjoying meeting interesting people in an authentic and informal atmosphere, developing organic relationships, through sharing perspectives and collaboratively supporting each other.
What makes community nights in the Baumhaus really special is the great vibe of the space and people…
Program
Come as early as 17:00 to join the food preparation or a bit later to enjoy some informal networking and community building during the Potluck Buffet. Bring what you have from home to share. After dinner we dive into another active meditative jam session… Feel most welcome to come and join us!
17:00 Doors open: Bring food to share & help preparing the Potluck-Buffet
20:00 Buffet & chill & open networking in the Open Greeting Zone*
20:45 Announcements (1min), News, Food for Thought
21:30 I.G.O.** Vocal Jam Session – start moving to the back room, warming up and then jamming!
All night – please volunteer to help keep the space clean, we have no staff, just a network of people who help each other out…
Pay-as-you-feel 5-10€: We ask our guests to consider their personal budget, the value of their experiences, and the value of supporting Baumhaus so that we can continue to provide space & support to people and projects in our neighborhood and beyond.
The address is Gerichtstr. 23 in the front house on the ground floor, you can walk in our door from the sidewalk. We have some drinks available at the door but it is ok to bring your own too.
* Open Greeting Zone – an area, where you can feel free to walk up to any person or group, introduce yourself, and be welcomed into the conversation.
** Improvisational Groove Orchestra (I.G.O.) – a fun way to experience authentic connection and community through exploring a commonly created sound space. (description & links to examples below)
I.G.O. Thursday Meditative Vocal Jam Sessions @ Baumhaus
We meet every Thursday to listen, respond, observe and curiously play with the sounds our voices create together. Our objective is to tune into the common feeling we are developing in the present moment.
Most of what we do is with our eyes closed. This allows everyone to be very focused on only the sound space without any other distractions. We usually are more beginners than experienced singers, and that's absolutely fine. It is a learning process in progress, each time balancing ourselves in volume and expression to merge into the group sound space, allowing everyone to hear and be heard, naturally developing our own musical styles.
All levels and voice types are welcome! Just make sure to be on time: Scott will explain a few basic and intuitively understandable concepts to make it super easy to dive in for everyone.
You can find tracks from previous I.G.O sessions here:
• https://soundcloud.com/das-baumhaus/sets/improvisational-groove-orchestra-baumhaus-23072017
• https://soundcloud.com/scott-bolden/ebb-and-flow-p2-edit-2
• https://soundcloud.com/scott-bolden/gently-flowing-through-a?in=scott-bwww.youtube.com/watch?v=bjzmfpnZhDk olden%2Fsets%2Fego-session-5-nov-13-2014
• https://soundcloud.com/scott-bolden/02-igonr8-tighten-up-exercise?in=scott-bolden%2Fsets%2Fabove-beyond
• a video showing another fun method with larger groups: www.youtube.com/watch?v=bjzmfpnZhDk

There are no upcoming events to display at this time.