BAUMHAUS FÜR DEINE VERANSTALTUNG
Brauchst du einen Raum für ein Treffen, für einen Workshop oder für eine öffentliche Veranstaltung? Schöne, multifunktionale und barrierefreie Räume für bis zu hundert Personen, zentral gelegen in der Gerichtstr. 23 im südlichen Wedding.
Das Baumhaus bietet Raum für viele Formate und eine inspirierende, kreative Atmosphäre. Du kannst unsere Räume für einige Stunden oder für einen ganzen Tag nutzen, nur den ruhigen Seminarraum mit Lehmwänden für kleinere Veranstaltungen oder konzentrierte Arbeitstreffen, oder unseren Hauptraum mit direktem Zugang vom Bürgersteig und großen Fenstern, tagsüber durchflutet mit Tageslicht und abends mit Kerzen beleuchtet. Und auch für einen Wochenendworkshop für eine Gruppe mit bis zu fünfzig Personen ist das Baumhaus ideal…
Interessiert? Email an info@baumhausberlin.de oder Karen anrufen: 0176 78566593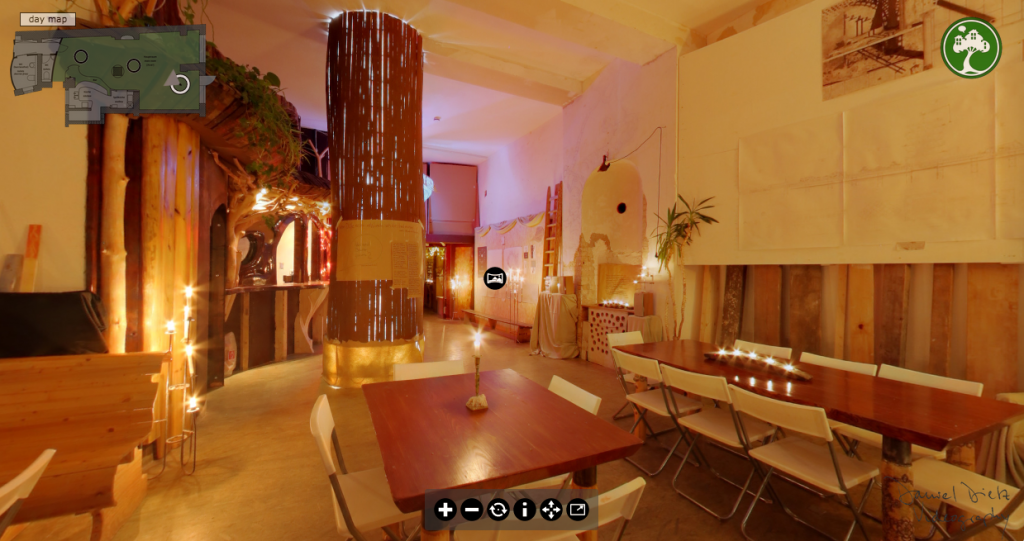 Baumhaus Projektraum
140m2 Ladenlokal, barrierefrei, flexible Bestuhlung
• 75m2 Hauptraum, 25m2 Seminarraum, Küche & Bar
• Beamer, Flipchart, Stellwände, Moderationskoffer
• Catering (z.B. Fingerfood & Buffet von unserem Partner"The Real Junk Food Project" mit geretteten Bio-Lebensmitteln)
• Gute Nahverkehrsanbindung (3min. S/U Wedding Ausgang Reinickendorfer Str.)
• Neben dem Panke-Kanal und Spielplatz für schöne Spaziergägne
• Mehr Veranstaltungsräume in den Hinterhöfen des Gebäudes, u.a. art loft berlin, kochende welten and fabrik 23
Space in Progress The Baumhaus Space got build by lots of volunteers, lots of love, time and donations by many people. And as you can see: we're not done yet. As a matter of fact, we think it will go on for quite a while, but we kind of like it: we think it makes part of the beauty of the space: always moving forward, changing and growing. So please be aware that the space is fully functional but not perfectly finished yet, and enjoy the in-progress-creative-building-vibe. And if you feel inspired to come beforehand and put some more finishing or artful touches in the space, you're welcome to join one of our collaborative building sessions.
Das Baumhaus ist ein Ort für Projekte, die eine nachhaltige, demokratische und solidarische Gesellschaft fördern. Wir arbeiten selbstverständlich nicht mit Förderern von Kohlekraft, Atomenergie, Rüstung, Gentechnik oder umweltzerstörenden Chemikalien zusammen. Auch lebensfeindliche Haltungen, Verstöße gegen Menschenrechte, menschenverachtendes Verhalten und Äußerungen sind Ausschlusskriterien.