click image below to go to our crowd-funding page

Our film was first presented at art loft berlin & Das Baumhaus Berlin :: Gerichtstr. 23, 3rd back yard, ground floor ::  On Facebook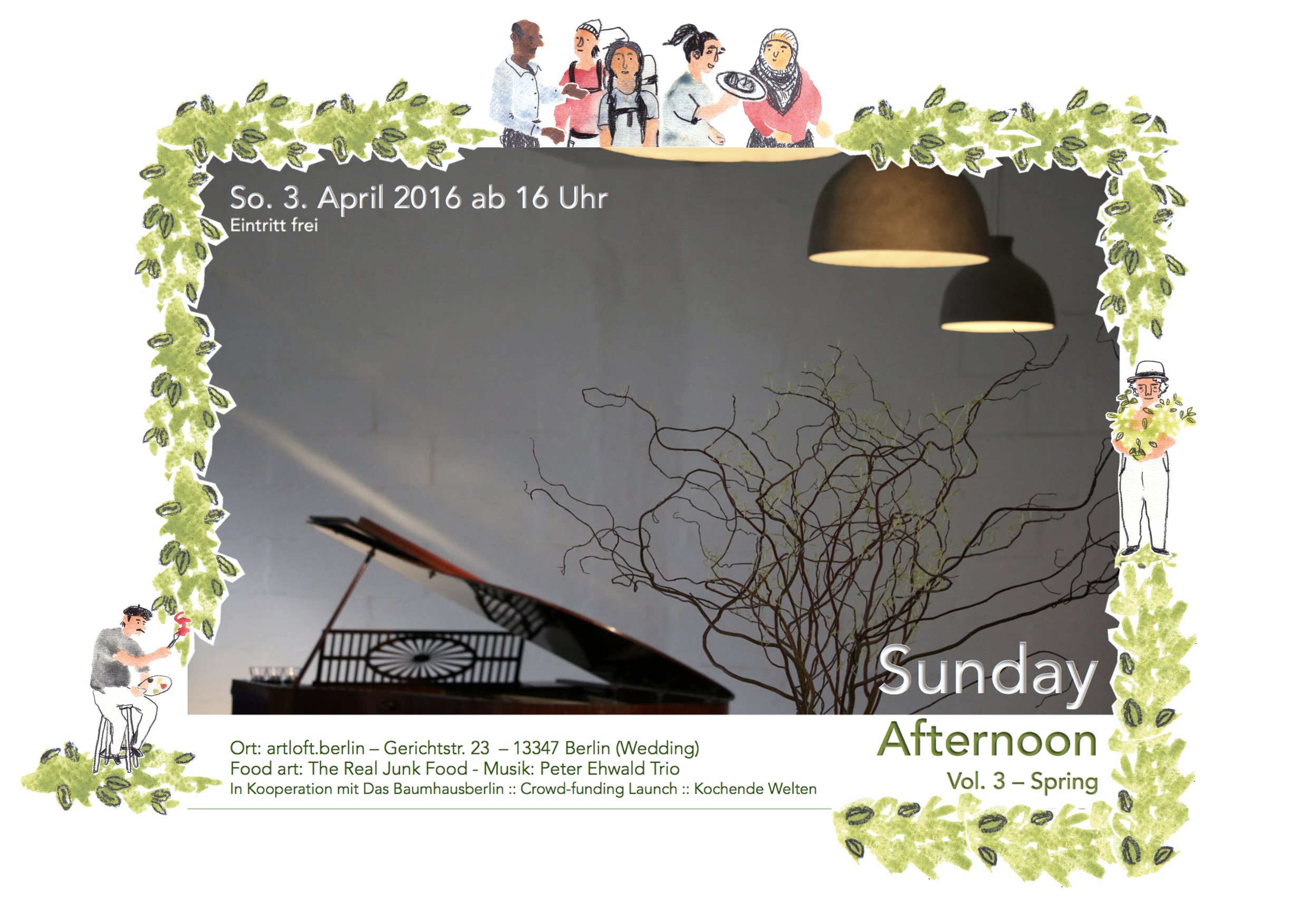 The entire art loft berlin will be an Open Greeting Zone which it means that it is ok to walk up to anyone and introduce yourself and expect the same in return, all evening long.
Live music by Peter Ehwald Trio & Tau, food-sharing by The Real Junk Food, drinks by the Charles Forsberg & Kochende Welten.
Digital 'Springtime' gallery featuring Susan Sanford, Sabine Jahnke and many others…
Live Drawing – Margarita Marx
16:00 Doors open
16-18:00 Samentausch

17:00 Baumhaus Tour  1 (20 min)
17:30 Peter Ehwald Trio
18:45 Welcoming remarks, Special Magic Trick & Short Film + 1 minute pitches for individuals and projects
19:30 Peter Ehwald Trio
20:00 Baumhaus Tour 2 (20 min)
21:00 1 minute pitches for individuals and projects
21:15 Tau
Sunday afternoon is a time and space for:
• connecting with interesting people & engaging ideas in our Springtime 'Open Greeting Zone'…
• to act on your sense of initiative to make Berlin and the world a better place along with other like minded people…
• to be inspired by great musical performances…
• to develop collaborations and cooperations…
• to discover local projects and initiatives…
• to enjoy quality ideas, food and drinks with quality people
This time around we will not only celebrate the renewing energy of Spring but also the launch of our new crowd-funding campaign to raise the rest of the money we need to open the Baumhaus this summer!
The Baumhaus is a project to build an event, meeting and hub space for people and projects who want to get active making Berlin and the world a better place. Come meet the project team and several of our cooperation partners. Find out what we are up to and how to support the project or even find people to help you develop your projects!
More Volume 3 collaborative partners:
+ special surprises!