Wann:
26. Februar 2018 – 4. März 2018
ganztägig
2018-02-26T00:00:00+01:00
2018-03-05T00:00:00+01:00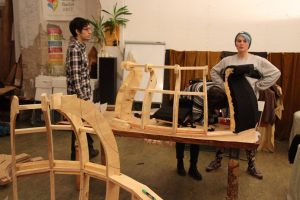 An invitation to help collaboratively create the sustainable world we want to live in…
Over the next few months we will continue to build our Baumhaus community both socially and professionally by continuing our practice of collaboratively building our collective portfolio of sustainable solutions together. This includes the Baumhaus space itself, additional event content and the services people in our network offer.
Let us know who you are, how you can imagine collaborating, when you might have time to collaborate, what talents, skills and curiosities you are passionate about sharing and learning. Feel free to let us know what motivates you and what kind of practical things you would like to accomplish.
Send messages to: info@baumhausberlin.de. We will respond to all messages individually to arrange a conversation, meeting or the next appropriate step. We will definitely be engaged in plenty of the following activities over the next weeks:
• graphic design
• product / furniture design
• general building with wood
• general helping hands stuff
• decorative finishing
• sewing with up-cycled materials
• engineering (structural and electrical)
• lighting ( design / programing / Arduino etc. )
• Lehmputz (clay) on walls
• ceramic & wood mosaic
• photo / video
• journalism / poetry & music
• translations (DE/EN/TU)
• food / cooking / nutrition
• workshop facilitation
…Or if you would just like to just stop by and check things out in person first, then come by any Thursday between 16-21:30 during our regular Community Night to check out what is going on, have a chat and meet some other nice folks in our network.
• https://www.facebook.com/pg/baumhausberlin/events/
• https://www.baumhausberlin.de/en/programm/
—–
Some video documentation during Community Building 2.0
video interview with co-founder, Scott, explaining some basics about the Baumhaus at the beginning of Community Building 2.0 (EN):
video of co-founders Karen and Scott, explaining the project in the middle of Community Building 2.0 (DE/EN mit deutsche Untertitel):
Check the Baumhaus Blog page or our facebook page for photo documentation