Wann:
17. November 2018 um 18:00 – 22:30
2018-11-17T18:00:00+01:00
2018-11-17T22:30:00+01:00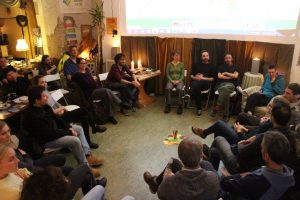 After 2 weeks of great events, we invite you to come back for one more round of connecting, networking and feedback. Check out the digital slide show of what happened during the Emergent Berlin 2018 as well as all the project posters for those who participated. Feel free to leave some feedback in writing or join in the live feedback round. We will also have a very special closing magic trick that you will not want to miss before we head off the closing party around the corner at Anita Berber Club.
18:00 Doors Open, Meet & Greet
20:00 Open Feedback Round
21:30 Ceremonial Magic Trick
* Bring snacks and drinks to share
Pay-as-you-feel €4 – €8, We ask participants to consider:
• the value of their experiences during the workshop in the Baumhaus
• the value of supporting the Baumhaus so that we can continue facilitating these and various other types of experiences