Wann:
31. August 2018 um 17:00 – 22:00
2018-08-31T17:00:00+02:00
2018-08-31T22:00:00+02:00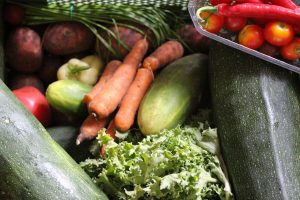 Last week the Baumhaus ended up acquiring enough fresh bio-veggies straight from the farm to feed at least 30 hungry people. Bring your ideas, questions, cooking talents, spices, good vibe, drinks and summer stories to share…
Besides, it feels like the right time for a nice relaxed late summer catch up, introduction or even future dreaming session…
As usual, Open Greeting Zone in effect: feel free to introduce yourself to anyone in the room and expect the same in return…
Doors open 17:00 Free! (voluntary donations are welcome)
– welcome, meet, greet & tour the space.
– we have plenty of carrots, potatoes, lots of zuchini, Gurken, onions, peppers, various seasonal herbs, various salad greens, tomatoes & garlic
– enjoy eating what we all created together and the process of creating new friendships as we do it
– pitch in to keep the space in good condition.
+ PREVIEW – "Summer So Far" (slide show with live vocal IGO mix…) – scenes from Barcelona 2018