Wann:
20. November 2019 um 19:00 – 22:00
2019-11-20T19:00:00+01:00
2019-11-20T22:00:00+01:00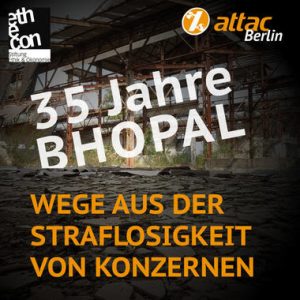 Language: English, whisper translation to German if needed.
Registration at mariesophiekeller@gmail.com
35 years ago, a gas leak of the highly toxic pesticide component Methyl isocyanate caused over 15.000 deaths and more than half a million injuries in the Indian city of Bhopal. Even though the accident dates back to 1984, the tragedy continues. The factory building is weathering down in the heart of the million city of Bhopal. Water and soil remain contaminated. The people that live around the factory building become sick, children are born with disabilities. Meanwhile, the corporate culprit Dow Chemicals/Union Carbide is getting away with impunity. The activist Rachna Dhingra and the Bhopal survivor Nousheen Khan are in Berlin to illustrate the impacts this major corporate crime has had on the city of Bhopal and its people. In addition, they will share with us their fight against the multinational corporation. Afterwards, we want to discuss the roots of corporate impunity, as well as strategies to dismantle it.
19:00 Arrival and informal gathering
19:30 Opening – Marie-Sophie Keller, Attac Berlin
19:40 Film excerpt "Prayer for Rain"
20:00 Short presentation "35 years of impunity in Bhopal" – Rachna Dhingra (Bhopal aktivist) and Nousheen Khan (Bhopal citizen)
20:15 Podium – STRATEGIES TO DISMANTLE CORPORATE IMPUNITY
• Rachna Dhingra (Bhopal activist)
• Nousheen Khan (Bhopal citizen)
• Pascal Meiser (Member of Parliament, DIE LINKE)
• Michael Gottlob (Amnesty DE)
• N.N. (Treaty Alliance)
21:15 Q&A and discussion