Wann:
30. January 2020 um 20:30 – 21:30
2020-01-30T20:30:00+01:00
2020-01-30T21:30:00+01:00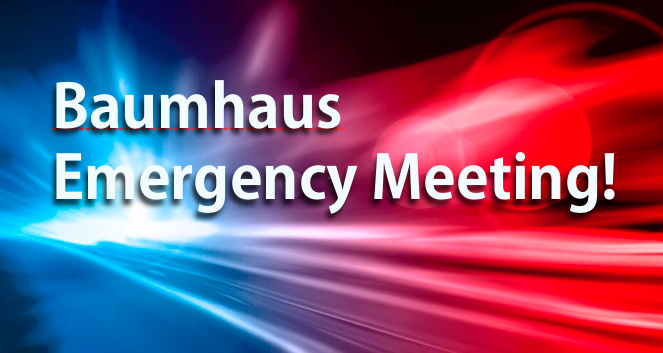 • According to the International Panel on Climate Change, we have only 9 years left to radically change how we do things on this planet to protect what life there still is…
• According to the Baumhaus financial situation, we have only 2 weeks left to survive unless we get some help to get us through the next 2 months…
Come find out what our major announcements are & what you can do to help save both this Thursday after our Community Networking Night buffet for a short 20min talk with Q & A.
The talk will start at 21:00 so please arrive on time, there is other normal program that happens before and after.
/////////////////////////
Dear Friends, Supporters and Fans,
We are currently facing a temporary existential financial emergency/crisis that we could really use some help resolving.  As you may know, Baumhaus has been completely self-financed without receiving any public funding. So far we have been flexible and able to react to the needs of the broader sustainability community in Berlin and even support several social projects with pro bono work. Now the challenge to keep all this going is a bit too much…
The good news is that we are currently in extensive talks with the city to fund us for a project – The bad news is that we are fighting to keep the Baumhaus open until then and pay all the bills the next 2 months. We find ourselves in this "funding gap" situation because since an extensive knee surgery in September, Scott is still at very limited capacity, and now we are also in the middle of the "low season" for space rentals, which usually lasts from December to March…
Now we are reaching out to our broader community to see if there are some ways to help us fill our 2000€ budget gaps for February and March.  You can help by connecting us with any ideas or leads to institutions, businesses, individuals or organizations who:
• need a space to rent for their next events
• could be interested to book any of our sustainability workshops or Baumhaus tours/talks
• could be interested in any of our services to develop sustainable projects, products, spaces or systems
• would like to make a donation ( https://www.baumhausberlin.de/en/spenden/ )

If you have any leads or info then please contact us at info@baumhausberlin.de.  Also, feel free to join our next Community Networking Night on Thursday Jan 30 when we will host a short talk with Q&A after diner at 21:00.
Peace,
Your Baumhaus-team