Wann:
12. November 2018 um 20:00 – 22:00
2018-11-12T20:00:00+01:00
2018-11-12T22:00:00+01:00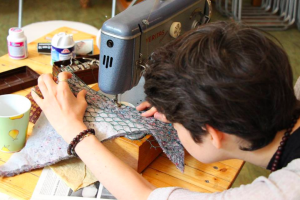 Kleidertausch – Clothing Swap
Montag 20 – 22 Uhr @ Baumhaus
+ Upcycling/Siebdruck
+ Winter/Herrenkleidung für die Stadtmission
inkl. tea & food/snacks: pay-as-you-feel 4-8€
(english below)
JedeR kennt sie, die Kleidungstücke, die im Schrank liegen und nie getragen werden, aber die mensch nicht aussortieren kann. Diese bekommen nun die Möglichkeit, in andere liebevolle Hände zu gelangen oder mithilfe der Siebdruckmaschine oder Nähmaschine zum neuen Lieblingsteil zu werden.
+ Zudem wollen wir gerade im Winter an Menschen denken, die wärmende Anziehsachen wirklich brauchen. Die übriggebliebene Kleidung wird zur Berliner Stadtmisson gebracht, die dafür sorgen, dass Menschen ohne Obdach nicht erfrieren. Wenn ihr also besonders Herren und Winterkleidung abgeben könnt, bringt diese mit und gebt sie bei uns ab!
Wir schaffen eine Alternative zum Einkauf ausbeuterischer Mode. Also komm, tausche und upcycle deine Anziehsachen!
**english**
All of us know these garments which you never wear but you can't give away. These are getting the chance to get into new loving hands or getting with the help of a sewing machine or the silk-screen printer one of your favorite pieces again.
+ Especially we want to think about the persons which need warm clothing the most. So the rest of the clothing will be donated to the Berliner Stadtmission. They will give them to homeless persons, so they don't freeze in winter. So if you can bring especially men- and winter clothes give them to us!
We create an alternative to exploitative fashion.
So come, swap and upcycle your clothes!