Wann:
17. November 2018 um 18:00 – 18. November 2018 um 6:00
2018-11-17T18:00:00+01:00
2018-11-18T06:00:00+01:00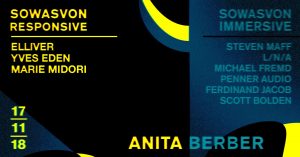 Location: Anita Berber Pankstrasse 17 / Pankeweg / Alte Fabrik / Follow the Pankeweg. past the railway tunnel on the right!, 13347 Wedding, Berlin (Also accessible from Gerichtstr. 23 if you are quiet…)
SOWASVON :: immersive :: 18:00-23:00 Uhr
▹ Steven Maff
▷ https://soundcloud.com/steven-maff
▹ L/N/A
▷ https://soundcloud.com/lnaplaystrippymusic
▹ Ole Brollin
▷ https://soundcloud.com/olebrolin
▹ Michael Fremd
▷ https://soundcloud.com/michael-fremd
▹ Ferdinand Jacob
▷ https://soundcloud.com/ferdinand-jacob-unterhemd
▹ Scott Bolden
▷ https://soundcloud.com/das-baumhaus
SOWASVON :: responsive #7 :: 23:00-07:00 Uhr
▪ Elliver
◆ https://soundcloud.com/elliver-twist
▪ Marie Midori
◆ https://soundcloud.com/mariemidori
▪ Yves Eden
◆ https://soundcloud.com/yveseden
◐◒◑◓◐◒◑◓◐◒◑◓◐◒◑◓◐◒◑◓◐◒◑◓
This time, we reset before we start. Mind over matter – immersive realities. If you don't mind, it don't matter. We invite you to go on a journey with us, from day to night, from space to void.
𝗧𝗛𝗘 𝗙𝗜𝗥𝗦𝗧 𝗣𝗔𝗥𝗧 of our experiment gives you the chance to loose yourself in resonating frequencies and binaural soundscapes. Secret performers will embrace leisure and it's up to you to react or watch.
ambient & drone live improvisation | soundscape & groove meditation | tarot affirmation | weiam: frequenSEED performanz
◐◒◑◓◐◒◑◓◐◒◑◓◐◒◑◓◐◒◑◓◐◒◑◓
𝗧𝗛𝗘 𝗦𝗘𝗖𝗢𝗡𝗗 𝗣𝗔𝗥𝗧 comes with the well known responsiveness of SOWASVON's electronic soul. As always, we place the shuttle of the hive mind on the dance floor and fuel it with devotion. Get ready for a sensual juncture of elation.
◐◒◑◓◐◒◑◓◐◒◑◓◐◒◑◓◐◒◑◓◐◒◑◓
This Event is part of the Emergent Berlin Fest 2018:
How can we create more experiences that resonate? What kinds of real impact do we want to have in the 'real' world? What are some ways we can immerse ourselves in more 'real' realities? How can we make living sustainably our reality? And how do we want to further grow those immersive realities?