Wann:
17. May 2019 um 21:00 – 18. May 2019 um 5:00
2019-05-17T21:00:00+02:00
2019-05-18T05:00:00+02:00
Wo:
Panke Culture
Gerichtstr. 23
13347 Berlin - 5th back yard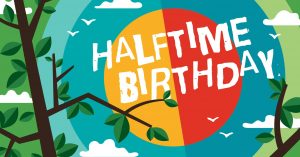 Change-Makers Unite!
Often, it can be a real challenge to dedicate your life to making the world a better and more sustainable place…  Sometimes it is good to pause, reflect on what we can do better, but also take time to celebrate our accomplishments.  In that same spirit, I would like to warmly invite all you dedicated change-makers and Baumhaus supporters to join me in reflecting and celebrating with a very special "HalfTime/Halbzeit" party on my birthday this year!
I figure that my life is at least half over, so now it is HalfTime! It could be HalfTime for any of us because no one really knows how much time we get… A good time to celebrate and reflect!
Our HalfTime Show features some of Berlin's grooviest DJs, Dub Masters and Live Musicians playing an eclectic mix of funk, soul, afro-beat, rare groove, dub, breaks, hip hop, drum 'n bass, techno, house and electro.
:: Doors @ 21:00, Show starts @ 22:00 ::
:: DJs & Dub Masters ::
Wyn Ti (SOWASVON), Scottie B (Baumhaus Berlin), Genys, Markus Thon
:: Live ::
Immaculate Contraption Session (improv musicians as dj)
Konstantin Athanasiadis (DUbsAx) – sax, Şafak Velioğlu Persian Tar, Rakesh Raj Nayak – tabla, Steven Maff (SOWASVON) – guitar synth, Mathieu Pe – trumpet & keyboard/synth, Daniel 'Keyser' Reichel – electro drums
:: Entry ::
4€ – 8€ ( pay as you feel ) – proceeds go toward event expenses, giving the artists something and supporting Baumhaus Berlin
:: Inspiration ::
What if life is a sport that we all play where winning means living a humane and satisfying life? What if we are all on the same team and winning means saving the world? What if it is HalfTime during "the big game", the only one we ever get to play…?
How well we have played the first half of life so far? In which ways are we winning, losing or maybe even tied? What is our strategy for the second half? What does your HalfTime inspirational talk sound like that we need to hear before we go back out on the "field of life" to play the second half?
feel free to try out our concept catalyzer text animations below to help you come up with some good ideas for your own halftime speech…
Peace,
Scottie B (Scott Bolden)
—–
• for more general ideas try – Potential Renaissance
• for more specific ideas try – Immersive Realities
*** instructions ***
– open the link, consider what the text means relative to your passions, interests, curiosities, skills and talents
– write down your ideas
– the pause button for each is in the lower right hand corner
– click the words to make them change independently