Wann:
11. November 2018 um 10:30 – 15:00
2018-11-11T10:30:00+01:00
2018-11-11T15:00:00+01:00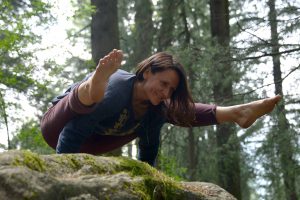 So 11. Nov: Sport Dance & "Yoga as Pain Relief" demonstrations + brunch (11 – 15:00)
This event is all about inspiring and supporting each other to make some of the basic changes in our lives actually happen by doing them together!
10:30 Doors open, meet & greet.  Bring healthy food and drinks to share for Brunch, we have a kitchen for preparation.
11:15 Enjoy the fully immersive background of grooves in the front room while we get a good "free dance" workout in.  Jo will be in the house working the back room to demonstrate how different yoga poses can help reduce pain, bring a mat if you have one.
'Joanna (Jo) has been practicing Yoga since 2004, learning the best out of it and influencing her life by studying different styles and learning from different masters. On Sunday she will lead a Classical Hatha practice enhanced by a little Theory of Yoga Therapy. We will go through some common yoga asanas and learn the right alignment and how they can benefit our body and mind. Come and join us for this self-indulging loving practice.
www.yogawithjo.net
https://www.facebook.com/yogaandtherapywithjo/
12:30 – 15:00 meet-up for brunch and supporting each other to transform some basic things in life like eating healthy/vegetarian/vegan, quitting smoking, practicing a language or whatever else comes up that we can potentially help each other out with…
We will also have some nice collaborative up-cycling projects to keep your hands busy while your mind wanders…
Pay-as-you-feel €4 – €8, (includes coffee, tea & snacks). We ask participants to consider:
• the value of their experiences during the workshop in the Baumhaus
• the value of supporting the Baumhaus so that we can continue facilitating these and various other types of experiences