How can we navigate the 'new normal' together? How can we support each other, collaborate and take action to bring forward the transformation towards sustainability in our neighborhood and city?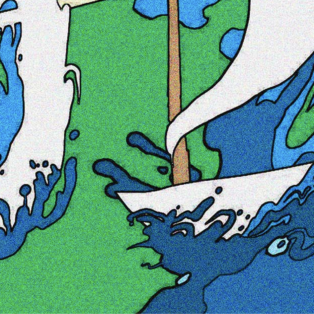 Emergent Berlin 2022 "Uncharted Waters"
Join us for a weekend full of short presentations, workshops, conversations, films, food, a party and lots of good people & local projects who want to take action for sustainability in Wedding, Berlin and beyond.
This year, Emergent Berlin is back as a three-day-event! (After last year's format as a six month event series). Over the years, our annual self-organised gathering has brought together a broad range of initiatives for sustainability, from personal, ecological, aesthetic, cultural, economic and social perspectives and served as a seismograph and catalyst for emerging initiatives as well as a space for networking and shared learning. And we intend to do no less this year. Let's see what can happen!
What: a self-organised gathering for local projects & people who want to take action
When & Where: June 10-12 2022 @Baumhaus/@Panke + Livestream
No tickets: just come by anytime! entrance free, donations welcome
Everyone is welcome. It's an informal and cozy atmosphere. Whether you're already active or not, whether you're new in Berlin or lived here a long time – we're looking forward to meeting you! (Please note that there will be a livestream and recording, so if you walk in, you agree to be filmed). Languages: EN and/or DE, whisper translations. Livestream: baumhausberlin.de/live
Friday June 10th
"Strangely normal"
Friday night 7pm-10pm – OPENING CONVERSATION @Baumhaus (EN)
From the ongoing pandemic and war in Ukraine to the new IPCC report with the most dire warnings ever, we find ourselves in a 'new normal' of uncertainty and change. How can we navigate the 'new normal' together? How can we support each other, collaborate and take action to bring forward the transformation towards sustainability in our neighborhood and city?
6 pm doors open
7 – 8 pm welcome & short input by José Luis Vicente Vicente (environmental scientist)
8 – 9 pm drinks and snacks and breakout groups for conversations
9 – 10 pm sharing of thoughts and ideas that came up, closing of the night
Sunday June 12th
"All hands on deck" (Wedding)
Sunday all day 11am-7pm  – PROJECT PRESENTATIONS & NETWORKING @Baumhaus front room (EN/DE)
Sunday we'll focus on our neighborhood Berlin-Wedding. We've invited some people from local social-ecological projects to share where they are at and go from there… Each hour there will be a project presentations (15min presentation, 15min q&a) and in between long coffee/tea-breaks for exchange and networking. The main language Sunday will be German, if a project presents in English we'll offer a whisper translation.
11 am doors open
12 pm Baumhaus Berlin (DE): We start by presenting Baumhaus and our calls for cooperations and volunteers, as we're rebuilding Baumhaus community after several long Corona breaks. And we'd love to discuss a couple of project ideas for the next year.
1 pm – 2 pm lunch break
2 pm LebensMittelPunkte Berlin (DE): We introduce a new network of neighborhood food hubs our Baumhaus Verein is helping to build up, with a prototype in Baumhaus, in collaboration with partners in Wedding, Mitte and all of Berlin LebensMittelPunkte.
3 pm SuperCoop (DE): SuperCoop is a communal supermarket located in Wedding that is owned and organized by its members. Since every member works 3h per month, a broad range of high-quality products (fresh, organic, local) can be offered to members at affordable prices while producers are paid fairly. Our guest: Marcus from the Welcome Team of SuperCoop.
4 pm Aequa (EN / DE whisper translation): aequa is an intersectional community united by their dreams of a world in which everyone can thrive. They have a community centre in Berlin Wedding for coworking, private rentals and community events. They run events based on their missions of social equity, mutual support and solidarity. Our guest: Sarj Lynch, director & co-founder of Aequa
5 pm Litterpicker (DE):  A neighborhood initiative who started cleaning streets last year. Following the slogan "Get active instead of complaining" they keep on growing – young people, parents, kids, seniors, disabled people and refugees. Our guest: Anna, co-founder of Litterpicker
6 pm PLAY! at ACaU (EN / DE whisper translation): A weekly workshop series for Ukrainian children and their parents, the families from the neighborhood are also very welcome! The goal of our creative workshops for children aged 4 to 12 is to create a supportive environment for play, communication and co-creation in a festival format. After the workshops, we have a warm lunch. They all eat together, share feelings and get to know each other. Our guest: Elina from PLAY! at ACaU
"All hands on deck" (Workshops)
Sunday all day 11am-6pm  – WORKSHOPS @Baumhaus back room & @Baumhaus sidewalk (DE/EN)
11am doors open
12 pm – 2 pm Upcycle Mosaic Workshop (@backroom, DE/EN): Mosaic is all about putting many tiny bits together to a big picture. What could be better than using materials that are already broken? We are going to use shattered dishes and old tiles and revive them as beautiful mosaic artworks.Pick your favorite colours from the wide palette of collected materials and create your own little mosaic piece. With: Nina/MosiMosa
12 pm – 2 pm Selber Baumscheiben begrünen (@sidewalk, DE): Bepflanzte Baumscheiben machen unseren Kiez schöner und leisten einen positiven Beitrag zum Stadtklima, dem Artenschutz und auch zum sozialen Miteinander. Neben der Motivation zum Gärtnern und einer Portion Eigeninitiative braucht es auch ein gewisses Know How, um die Baumscheibe vor der eigenen Haustür zum Blühen zu bringen. Welche Do's and Don'ts sind bei der Bepflanzung und Pflege von Baumscheiben zu beachten? Was ist sinnvoll und überhaupt erlaubt? Alle diese Fragen klären wir im Rahmen unseres ca. zweistündigen Workshops. Nach einem kurzen, interaktiven "How To" rund um das Thema Baumscheiben-Bepflanzung, legen wir los und begrünen gemeinsam die Baumscheibe(n) vor dem Baumhaus.Erwachsene, Jugendliche und Kinder ab ca. 5 Jahren sind herzlich eingeladen teilzunehmen. Der Workshop findet draußen statt. Denkt bei Bedarf also an Sonnenschutz oder eure Regenjacke.Pflanzen für die Baumscheibe(n) sowie Handschuhe, kleine Schippen und Harken werden gestellt. Gießkannen und Eimer zum Gießen sowie Saatgut/ Blühmischungen können gern mitgebracht werden. Mit Leonie vom himmelbeet
cancelled due to illness 2 pm – 4 pm Knowing Me, Knowing You, Aha…. Better Social Collaboration through Basic Tools of Emotionmanagement: Let's not waste our energy on unnecessary conflict but use it to actively dream our visions into this world. Working as part of diverse groups of people it is easy to become entangled in our own as well as others' emotional complexities…  Add eco-anxiety, personal stress, and the pressure of additional challenges like bureaucracy or discrimination, it is no wonder how much energy it costs us to maintain our own mental health as well as healthy relationships with other people in our tribe.  In this workshop I will share with you some basic knowledge and tools of emotion management so it will be easier for you to recognize what your inner bodyguards aka emotions are trying to tell you and how to take care of your needs. This self-knowledge will you gain more clarity and peace as well as help you to communicate with others in a more effective way. With the wonderful Jesta Phoenix

4 pm – 6 pm: Systems Change not Climate Change!, But How? (EN): We say Systems Change not Climate Change, but have you ever thought of how systems really change? What  are the necessary roles that drive system change? — Let's have a workshop filled with interactive activities and conversations about how systems change and look into a model of change that tries to describe nonlinear emergent processes of change within complex systems. As with all living beings, systems are also born, they grow, they peek and then they start to decline, i.e. they have a lifecycle. Looking at the growth and decline cycle of living systems can guide us to understand what roles are necessary for the systems to change. With:  Seyda Nur Günes who is a learning experience designer and a coach focused on systems transformation & leadership
Just come by anytime! We're looking forward to meeting you!
Mit dabei u.a.: