Wann:
17. September 2017 um 15:30 – 18:00
2017-09-17T15:30:00+02:00
2017-09-17T18:00:00+02:00
Wo:
Das Baumhaus
Gerichtstraße 23
13347 Berlin
Deutschland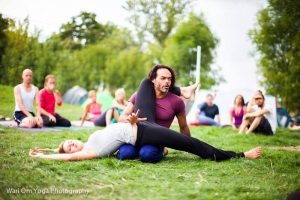 Join us for a night of articulations of intelligent touch; Massage as a means of communication, compassion, and kinesthetic aesthetics.
Price: 5-15€, includes entry fee for space and workshop
This short class intro to the principles of good touch is appropriate for everyone, including those with no formal training to physically interactive professionals. With an understanding of the principles presented in this workshop youll be able to apply them anywhere at anytime. Patterned, stylistic, or esoteric practises shall NOT be offered in this training.
The 2 hour class shall open with protocols for safety and mutual consent. Participants should be prepared to respect these conditions at all times. I'll proceed with suggestions on how to move, be moved and move others through various modes. The practical applications shall also be complimented with accessible philosophical and anatomical insights.
Mixed or exclusive partnering shall be considered.
Comfortable, nonslip clothing is ideal, and bring extra layers for warmth.
Queer friendly! Barrier free space, persons with disabilities are very welcomed!
Collin Edina has practiced massage & bodywork professionally for over 20 years. He engages in research development of functional aesthetics; arts as a utility for exercising holistic well being. His introduction to Contact Improv in 1989 blossomed into a fascination which continues to bear new fruits in the form, applying CI principles within aquatics (Improvisations in Immersion), acrobalancing and bodywork. He continually seeks to bring people together in unique and redeeming ways such as with skill exchange events, or utilizing participatory experimental theater to enhance the Mind-Body practices he offers.
…and Collin particularly enjoys sharing the experience of being in the Here and Now!
After 18:00 feel free to join us for this closing event for both Emergent Berlin and Wandelwoch! http://bbb.wandelwoche.org/veranstaltung/abschluss/